natashaclub.com
Natashaclub Review
Online dating industry is so diverse that sometimes it may be difficult to choose something. It sounds really strange - why with such a huge variability of resources it may even be hard to pick one resource. This fact is related to some risks of frauds. Nowadays, so many people became victims of online scammers and that is a massive trouble that can bother anybody.
That's why it is better to be very attentive when choosing online dating platform and chatting with ladies. If you don't want to have these constant worries every time you chat with a new member, you'd better sign up on a checked and reliable platform and one of such resources is called NatashaClub.com.
General impression about Natasha Club
The thing which you immediately pay attention to when enter this dating platform for the first time is orientation towards the clients' safety. The site claims to have the safest atmosphere. Every lady is checked prior the registration. So, only really women are available on the site.
Moreover, this platform is considered to be one of those who are functioning for almost 20 years. Can you imagine that a dating site works so long? Since the launching everything has greatly change, but the general conception remains the same. They orient towards the security and value every client.
One more important thing to mention is that site has mainly Russian and Ukrainian ladies in the catalogue. There are lots of local offices that assist with the whole process of online dating and check the women prior online registration on the site. That is also considered to be a major plus of this dating service.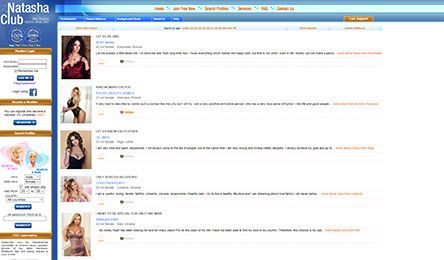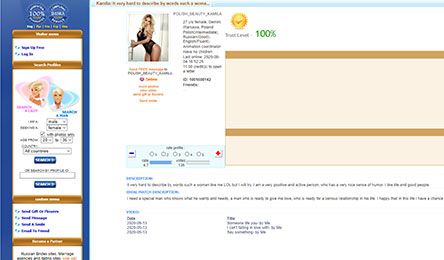 Registration process review
This sign up and first Natasha club login is the simplest process. There is no need to follow any difficult procedures, just press "Join Free Now" button which is in the top of the webpage and fill in general information about you. Unfortunately, there isn't a possibility to join the site via other social networking sites, but it won't take you too long in any way.
The form includes such info as your gender, date of birth, country, city, nickname, email, and password. Also, you should agree with the terms of this platform, privacy policy, and that some of your personal data will be used for statistics. Please, attentively review all these terms and conditions before agreeing with them.
It is all you need to know about this simple process of registration.
How to interact with ladies on the site?
To begin with, you should better find the desirable candidate. Please, don't try to contact every girl who is online, in such a way you will just waste lots of time and don't get any results in terms of love search.
Once, you know whom you are searching for and you have found several candidates, you can start your online communication. What is the best about Natasha club is that you may start chatting with anyone for free. Usually, dating sites offer only free registration and everything that is related to online communication is a paid feature. So, that is a major plus and bonus for you as a user.
When you have sent a couple of private messages, you will be shocked because you cannot read the responses for free. The cost for each read text is $1 and that is rather strange thing that I have never met anywhere before.
Among the other tools which are offered for clients there are such as the following: phone calls, vote for the best ladies, interpreter service, gift sending, contact details of your partner, background check, and lots of more.
As you see, the variability of the offered functions is enough for the interaction with a complete stranger and start building serious relations online.
Real prices for the usage of this service
Some Natashaclub reviews prefer to skip this important topic and that is totally wrong conception. Every user should be prepared and know what to expect from a dating site and how much it will cost to find your love online. So, if you are seriously searching for relations, you'd better review this paragraph.
As you've understood, registration and initial interaction with a lady is free of charge so you can check out this platform and decide: is it really that site which you would like to use?
Once you have determined your needs, you should purchase credits for communication with the members. The price per each credit depends on the package that you choose. The more credits you buy the cheaper it will be to you. For instance, in case you purchase 20-54 credits, then each one will cost you $2.00. When you order 55 and more, the price will be only $1.09 per credits. And of course if you buy 100 and more, you will spend only $1.00 for each.
Now when everything is rather clear with this credits' system, let's review the real prices for some of the services. Contact info of the woman costs $50.00 or it may be free of charge if you have been communicating for a decent period of time and received at least 15 messages from the lady. As for phone calls, you will spend 1.8 credits per each minute, but here is also included translation if you need such kind of assistance.
Want to know more? Then enter Natashaclub and check all the other info right there.
Natashaclub.com complains or real feedback from clients
"My registration on Natasha Club was a first attempt to find my Russian bride online. I couldn't call it really successful, but at the same time I don't have some major complains. It is a usual site where you can communicate with charming Slavic women. The platform claims to check every signed up lady and maybe it is true, I don't know. Right now, I have been using this site for 2 months already and haven't found any meaningful relations. Maybe the situation will change, if not I don't plan to use the site longer than half of the year…"
"WOW… I think that Natashaclub is such a professional resource where everything is organized for the clients' safety and comfort. I had several real meetings with Russian ladies and they were just perfect. The sites' team has organized everything including restaurant, hotel, tickets, and translator's assistance. Unfortunately, I haven't found my love yet, but looking back on my experience I can say that I was just looking for a wrong partner. Now I knew what matters for me and how to find this perfect lady. I think that without these real meeting I won't understand what really matter for me in relations with Slavic girls. Wish me luck and register on this resource… I definitely recommend it!"
Conclusion
NatashaClub is such a professional dating service that bothers about every client right away. The security of this site is prioritized and you can notice it right away. Moreover, the number of registered ladies is immense and everyone can choose ideal candidate just in a couple of clicks.
When speaking about some drawbacks, there are not so many. Among the most mentioned once is the price and why there is no free chatting option. However, this fact is rather clear and understandable. Reliable and secure website cannot function for free. Please, don't believe that a free dating site can have the same quality service as a paid once. It is totally impossible as for now!