zoosk.com
Zoosk and some recommendations about online dating!
What is Zoosk? Probably, this question has appeared in your mind after reviewing the title of this article. So, let's answer this question right now. This is a website that mostly orients into helping lonely people with building serious relations. These are not general words, but a real fact that site has a personalized approach to every client. Zoosk dating site has implemented the most functional match methods that suits almost all members. It was checked and double-checked prior launching of the technology. So, now almost 34 million clients are testing these methods and have cool results which surprise them.
Except of a functional platform, you are also offered a fantastic Zoosk App experience. Users from 80 countries are using this application on a daily basis. That's why, the language choice if just cool, there are 25 languages represented on the site. This includes German, Spanish, Dutch, Norway, Portuguese and way more.
Hope this answer on the question: what is Zoosk, will satisfy you. If you are interested and want to learn more, you should better continue reading this article and you will get much more on this topic.
Registration on Zoosk dating site
This procedure is rather standard one and there is no need to discuss it in details. So, you will be offered three variants: usual Zoosk sign in, via Facebook or Google account.
The standard form for registration consists of gender preference, date of birth, email address and password.
That is almost all you need to be aware of regarding registration process on Zoosk dating platform.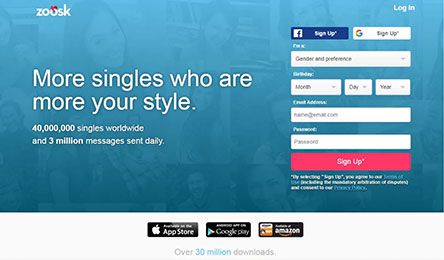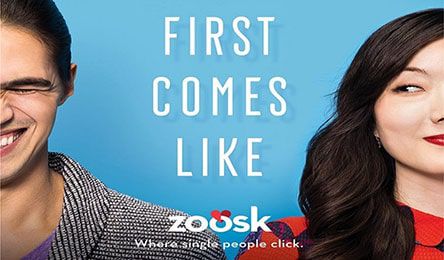 The quality of members' profiles
Unfortunately, you cannot get an access to the users' profile without signing up on the platform. It is rather evident thing, because in such a way administration protects personal information of the clients from other visitors.
After Zoosk sign in, there won't be any restrictions and you can check whatever you need. Usually a standard profile consists of high quality photos (not one), a short info story about a user and few words about hobbies or interests.
The recommendation for any newcomer is simple – spend some time and make your profile as attractive as you could. If you are seriously searching for love, you should think of profile as of the first impression about your, that will never disappear.
On the site you will find a cool article with practical pieces of advice about making your profile interesting in order to find your love.
Something about Zoosk dating features
Except of standard dating chatting, everyone can use cool features that will make the process of love search even more exciting and intriguing for both your partner and you. The first cool thing is "Go Invisible". The title says for its function, you can check other members without them knowing this. This is a paid feature and you will get such possibility to check other profiles only for 30 minutes after purchasing it. The process of using the feature on a Smartphone and usual PC version is slightly different, so check out this information on Zoosk.
"Hide and Seek" in this feature, you will be offered several levels of visibility. With "sneak" your profile is visible to others, but you can review others like a spy. "Seek" level has no difference with a regular member and "Hide" means that nobody except those that you decided to chat with can find you.
One more premium option is "Instant Crush". There are available 5 crashes per day and if you make one a user understands that you are really interested in him/her. The percentage of reply in such a way is a way higher than by using usual message.
Zoosk free trial and paid memberships
Online dating sometimes can be rather expensive procedure especially if you are required to pay per every message that you send. Zoosk dating site in this point is rather loyal and budget variant.
Let's begin with Zoosk free trial. It is offered for any member. What access will you have got with this free Zoosk log in? First of all, you can create an account, fill in your profile and add photos. Also, you can use Zoosk com search, use match feature and wink users. Almost anything that you will need to get a general understanding of this site, you will get with this membership. There will be a possibility to check the quality of profile, registered members and review all the other services.
The paid access depends on the chosen period the longer your subscription is the less you will spend per month. For instance one month usage costs $29.95, although in case you purchase six months' membership you will spend only $12.49 for the same period. The difference is great. So, if you are seriously oriented into finding romantic relations you can save money with the longer subscription.
These paid memberships give you an unlimited access to communication with any user. In addition to this you can also purchase some features that are not included in the membership such as for instance "Premium messaging".
Is invested currency worth the result?
This question appeared because, you cannot contact members with a usual basic account and you should definitely purchase membership after Zoosk sign up. The question still remains - is it worth time and money to purchase this membership?
The price is lower than on majority of other dating websites, but usually in this price is includes lots of additions features and chatting is for free. So, you should decide yourself is it worth spending.
On the one hand, the price is minimal and when considering it as a payment for future relations it is low. You are getting an access to lots of users and the quality of the profiles is great. Moreover, there are cool features and an application for any device. On the other hand, why a user should pay for services which can get on other platforms for free. As you see, it is so controversial and subjective answer that may not satisfy you. It is as it is and nothing could be said more.
Zoosk App
Sure, navigation on the site is the best and Zoosk log in is simple. However, what is better than using simple Zoosk app which is always in your pocket. You can take your Smartphone or tablet and contact your beloved whenever you need this. While you are going somewhere or just drinking coffee in the coffee shop.
Zoosk search was optimized in an application and now anyone can easily use this platform. Except of a long list of registered members, this Zoosk app is popular due to the safety of resource. Only real people can sign up and communicate on the site for these check-ins there were implemented lots of procedures.
The thing that definitely stands out Zoosk free dating app from others is one fact. It really helps and it has already assisted more than 56,000 users to find their partner. Is that statistics phenomenon? At least for me, it is.
So, phone can be like a media between you're and your future partner.
Users' feedback about Zoosk free dating app
"I have been using variable dating platform for ages and it was not a bad experience for me. Not at all, but I couldn't find real relations there. Everything was ok, friendly users, cool interface and more. Nevertheless, only Zoosk sign up showed me that a dating site can really help people. I found my love on this platform and could not be happier than right now…"
"I read Zoosk review and decided to register. And this was the best decision of my entire life. Don't want to share too much about my personal story, but I got married because of this platform! I definitely recommend this website for all for who are seriously oriented into relationship search. It cannot be easier than just online acquaintance."
Conclusion
Zoosk dating site can be a great start for building serious relations with anybody you want. The registration will take you maximum a couple of seconds and after it, you can enjoy the best experience of your life. Zoosk discounts are offered to any member and that is fantastic. Also, the price for membership is so reasonable and everybody can effort such a service with only one click.
There are lots of variants to find your real love online and why not to try the best possible option right now! Zoosk search will give you everything you need and even more than that. Are you still reading this Zoosk review? If yes, then maybe you are wasting the time that could be spend on online communication with your future husband/wife. You are worth only the best and this choice depends only on your own desires and motivation. Nothing can be better than easy and fun communication with the possibility to build healthy and meaningful relations in future. And Zoosk com search can immediately help you or anybody else.